Britney Spears, who previously heads to LAX airport to go to Germany, graces the cover of Rolling Stone magazine for its December 11 issue, which is set out by Friday.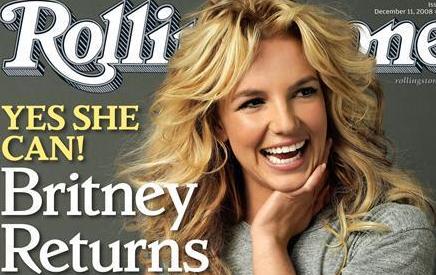 Nearly a year after a breakdown, the troubled pop singer revealed that she feels as if she has matured, saying: "I feel like an old person now, I do! I go to bed at, like, 9:30 every night, and I don't go out or anything."
Here are the highlights of her interview:
Her manager Larry Rudolph on his expectations: "This is going to be the album that cements her legend status."
Rolling Stone on getting Brit for their cover feature: "[Interviewing the star was a] rigorously micromanaged process.We were never left alone together, and my questions had to be submitted ahead of time for approval."
Britney Spears gets to go on dates, supervised by her assistant, Brett, and Rudolph's colleague, Adam Leber: "Right when we got there, we just knew it was just bad. He looked like an older version of Harry Potter, but skinnier. … So I had to get dessert first. And the other date I had, the guy was really, really tall and a lot older. … We're trying to ask him questions, like, 'OK, you're into martial arts, so what kind of martial arts are you into?' And he was like, 'Oh, all kinds.' … But you know how silly we are, so we were just cracking up."
On her two sons Sean and Jayden: "Every time they come to visit me, I think about how they're such special people… [But they] are starting to learn words like 'stupid,' and Preston says the f-word now sometimes. He doesn't get it from us. He must get it from his daddy. I say it, but not around my kids."
Britney Spears is going to turn 27 on Dec. 2, which is the same day her album, Circus, hits stores.
Comments
comments