The Jonas Brothers expressed their wish to work with rapper Kanye West.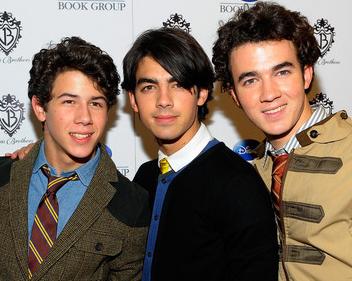 The band, which comprised siblings Kevin, Nick and Joe, have revealed they would love to collaborate with the rapper after listening to his new album '808s and Heartbreak'.
Nick Jonas explained: "We think Kanye's new record sounded really cool, so that's someone. But usually it's cool to get to know somebody as a friend before forming a work relationship with them."
The group also revealed they were desperate for an introduction to the 'Stronger' singer at the American Music Awards last weekend, but didn't get to fulfill their dream.
Kevin Jonas revealed: "We got to meet Chris Martin and the guys from Coldplay. That to us is huge.
"We still want to meet Kanye. That is our next goal. On his next album, the songs we've heard so far are incredible."
Nick, Kevin and Joe recently said they would be keen to work with 'Womanizer' singer Britney Spears.
When asked if they would consider performing with the star, Joe replied: "Oh yeah, that would be crazy!"
Meanwhile, Musicians Nick Jonas, Joe Jonas and Kevin Jonas of the Jonas Brothers were also spotted while arriving at the book launch for "Burning Up: On Tour With The Jonas Brothers" at the Sunset Tower hotel on November 24, 2008 in Los Angeles, California.
Comments
comments