Britney Spears was spotted while having the usual coffee and gas run on October 12.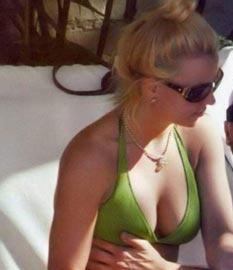 While the troubled pop singer was waiting at the gas station, a helpful photographer refueled her car, she read a children's book, "The Lion, the Witch and the Wardrobe".
Perhaps the kids of the "Toxic" singer, Sean and Jayden, are going to be treated to some bedtime tales the next time they visit their mother for a sleepover.
Other than that it was a routine day for the custody challenged 25-year-old singer who continued to mock the paparazzi horde trailing her by driving them around aimlessly.
The singer wore spaghetti strap cotton knit tiered dress in black color with a very deep neckline and scalloped lace hem. The neckline did not allow for a bra and in all probabilities she wore no underwear at all, but the length of her dress precluded a commando salute like the one she honored photographers with on Wednesday.
Comments
comments