Perhaps there is a hope that the former celebrity couple will reunited as a report revealed that Jennifer Aniston and Vince Vaughn were briefly reunited on October 6th.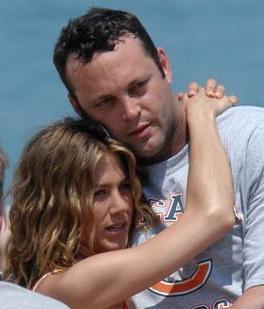 The former celebrity pair was spotted talking closely and quietly for an hour at an LA party. An eyewitness observed that looked a little awkward at first but they started talking and ended up spending an hour alone in deep conversation. Another source claimed that the pair "looked intimate" as they talked.
A weekly entertainment magazine reports that Jennifer Aniston and her former boyfriend Vince Vaughn enjoyed a date night at the Beverly Hills Hotel Bar Nineteen 12.
Is the pair back together? Many believe that it certainly would help Vince Vaughn who has been a bit close to the edge since the split.
The eyewitness revealed, "They seemed to be having a really good time. David Beckham was there also and they chatted with him for a while. It was a good night."
A source revealed, "He really did want to marry her, but Jen just could not make the commitment. I wouldn't put it past him to try and start all over with her."
Neither Jennifer Aniston nor Vince Vaughn's representatives commented on their clients romantic rendezvous.
Comments
comments