Britney Spears, who previously admitted to stealing a lighter, had the ultimate bad hair day. When the "Gimme More" singer stopped off for a coffee in LA, fellow customers were just as spooked.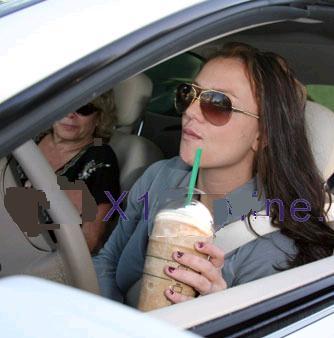 One customer revealed, "You couldn't have mistaken her for anyone else—except perhaps Beetlejuice. Maybe she said his name three times and called up the ghost."
R maybe she encountered something else. It is because she crashed down a staircase at her Beverly Hills home after flying into a jealous rage over her former husband K-Fed earlier this week.
A friend revealed that the 26-year-old singer had paid K-Fed a surprise visit at his LA home and found another woman there. She was screaming hysterically as she jumped into her car and drove off. And when she got home pregnant, Britney took a tumble down the stairs. She was unhurt and the next day phoned K-Fed, begging him to go on holiday with her and their two tots to the Bahamas this Christmas.
K-Fed, 29, has full custody of Jayden James, one, and two-year-old Sean Preston, after a judge ruled her unfit to look after them.
A source revealed, "K-Fed is a reasonable guy and she desperately wants to see her kids. She adores them and hopefully she'll get what she wants this Christmas."
Comments
comments