Elizabeth Arden, a cosmetic manufacturer, has refuted speculations that they have used a Britney Spear's body double for new perfume "Believe" advertisement.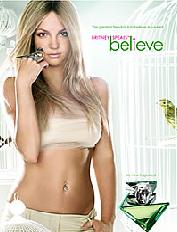 She revealed, "We recently shot Britney Spears for the print campaign for her new fragrance Britney Spears Believe, in Santa Monica. It is true that Britney did leave the set; however, she returned after a brief time. Cayli was the wardrobe assistant on the shoot. We used her as a stand in so that we could set up the lighting while Britney was off the set. When Britney returned, we shot the national print ad with her. The only person in the national print ad for Britney's Believe fragrance is Britney Spears."
In the print advertisement for Believe perfume, a svelte Britney Spears is shown plugging her latest fragrance.
The extreme-svelte picture has triggered talks that the company has super-imposed the singer's face on the body of another model, according to the New York Post.
Comments
comments