Eva Longoria, who recently posed for Russian FHM, has given a new idea of cooling off by posing for an ice cream advertisement.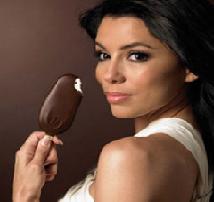 The "Desperate Housewives" star, which recently tied a knot, posed in a New European Commercial for Magnum Ice Cream.
The actress, who married the basketball star in Paris on July 7, has revealed their post-wedding celebrations in the Caribbean islands of the Turks and Caicos were very "romantic".
She revealed, "It was so romantic, it was just the two of us. We were completely alone together. We didn't see people for days with the exception of room service bringing us food.
Comments
comments