The Britney Spears comeback train continues rolling down the tracks as the pop superstar preps for her upcoming tour and shoots the video for her single, "If You Seek Amy" from her current hit album, Circus.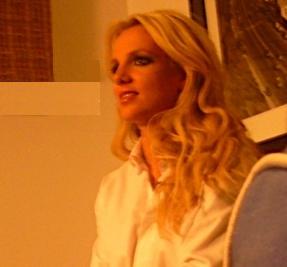 In the clip posted on BritneySpears site, three of the pop star's dancers show off the moves you'll see when the video hits TV and the Internet in the coming weeks.
Britney Spears dancers Willie, Jay and Luke are showing off the dance moves for her new video "If U Seek Amy." Watch on BritneySpears site.
The pop star, 27, wrote on Twitter that last Wednesday's shoot was "super sexy and really fun! I can't wait for you all to see it <3 Britney."
The controversial song (say the title fast!) is the third single off her platinum album, Circus.
Spears plays a 1950s housewife with a perfect family in the clip. Photos show her donning a blonde bouffant hairstyle and carrying a pie while hanging with a handsome, preppy man and two well-dressed kids in a home with a white picket fence.
But inside the house, the singer apparently strips down and dances in a racy outfit!
A video release date has not yet been announced.
Comments
comments