Robert Pattinson, who is also known as Edward Cullen, will be onstage at this year's Oscars. However, the vampire hottie won't be taking home any awards, but will instead be one of the Academy's presenters during the ceremony.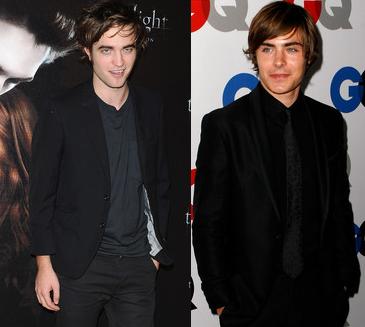 Sources tell the site that the object of so much breathless affection will be flying in to L.A. from his native London on Thursday.
It hasn't been confirmed whether or not co-star Kristen Stewart will be joining Robert Pattinson onstage, but the mere presence of the faux-fanged one will surely cause a huge stir, even among Hollywood's heavyhitters.
In addition to "Twilight" hunk Robert Pattinson, the 81st Annual Academy Awards will have one more heartthrob in its list of presenters as Zac Efron is reported to be making an appearance at the Hollywood's biggest movie event. Coming up first with the report was E! News Marc Malkin.
The Vanessa Hudgens' co-star and real life boyfriend in "High School Musical 3: Senior Year" is said to be appointed to present the golden man statuette to the winner of Best Original Song during the telecast. While it is claimed that Efron and Pattinson won't share the stage together, it is still unclear whether Efron will give away the kudo by himself or joined by another presenter.
Apart from sharing the possibility of Efron handing out an Oscar, Malkin further revealed that "Hannah Montana" star Miley Cyrus will also be in attendance at this year's Oscars. However, he noted that the 16-year-old won't be presenting like last year. She will be attending the event in support of her animated movie "Bolt", which is up for Best Animated Feature.
The 81st Annual Academy Awards itself will be held at the Kodak Theatre in Hollywood, California on Sunday, February 22 and aired live on ABC with Hugh Jackman serving as the show's host. "The Curious Case of Benjamin Button", "The Dark Knight" and "Milk" are among this year's nominees for the coveted awards.
Comments
comments