Britney Spears has stepped out flaunting a ring on her engagement finger as sources reveal she's "desperate" to marry her paparazzo boyfriend Adnan Ghalib.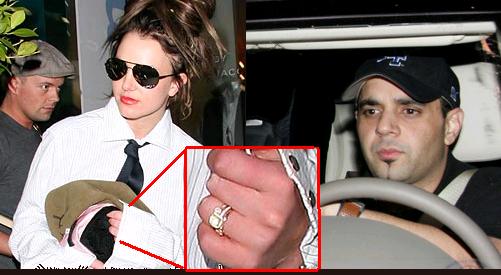 It was reported that the troubled star has put pressure on the British photographer to fast track his divorce.
Britney Spears, who wore a men's shirt, black tie and ripped fishnet stockings, showed off the sparkler during a 2am visit to the clothing store Kitson after requesting the store to open especially for a late night shopping spree. She headed out for the early morning trip accompanied by her manager Sam Lufti.
Her new romance with paparazzi beau seems to be getting serious. A source confirmed that the singer hopes to wed the recently separated Birmingham-born photographer. A source revealed, "Britney is desperate to marry Adnan. Britney wants him to be single as soon as possible."
It was also claimed that Adnan Ghalib staged the pictures from yesterday that apparently showed Britney Spears buying a pregnancy test.
Her camp has denied she is expecting a third child and Britney Spears told a pack of photographers she was purchasing the test for a "friend".
Meanwhile, her manager and faithful friend Sam Lufti tried to clear up a few of the rumors about Britney Spears as he made an appearance on a morning show.
Sam Lufti says Brit has no plans to marry Adnan Ghalib, and she's not interested in having another kid.
On the home pregnancy test the "Gimme More" singer was spotted buying, he claimed, "I think it was probably for Chad."
On Britney's quick fix of late-night shopping, he revealed that it is a little retail therapy brought about by "boredom" but he insisted that "Everything's back on track. She's handling it."
Comments
comments