They both recently hit the bottle to transform themselves into blonde bombshells.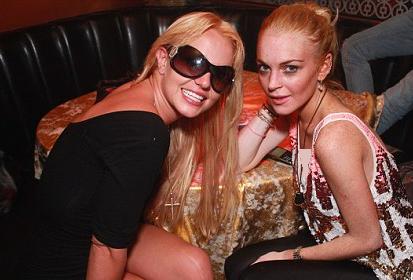 So it seemed only appropriate that former party pals Britney Spears and Lindsay Lohan hooked up for a night out to parade their new looks.
The duo were spotted laughing and dancing the evening away on Sunday at the Grand Star Jazz Club in Chinatown, Los Angles.
The Mean Girls actress says she underwent the transformation for a film role and admitted to missing her old colour.
But over the weekend it was a case of blondes have more fun as the double act partied until 3am.
The pair used to be regulars on the Los Angeles party scene, along with Paris Hilton, around the time Britney was admitted to a psychiatric ward.
However, it seems they could not resist a catch-up with Britney having cleared some time in the diary following her recent return from the European leg of her world tour.
The following day, Britney declared on Twitter: 'Blondes do have more fun,' and Lindsay replied: 'I second that… for now hehe.'
The last time they hung out together Lindsay was still dating men and Britney was wearing her pink wig having shaved off her hair.
Since making her comeback, however, the mother-of-two has been under the strict control of her father James.
Comments
comments