Britney Spears has recently launched her highly anticipated comeback at the MTV Video Music Awards. The singer dressed up a stripper and made lip-synch of her new single "Gimme More".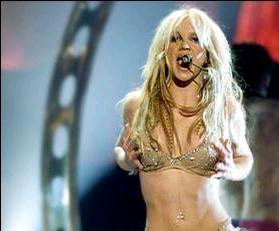 The 25-year-old singer, who wore a black sequined bikini and knee-high boots, gave unpleasant performance after partying away any pre-show nerves during a 48-hour Vegas bender with P. Diddy.
At one point, the camera panned to rapper 50 Cent, sitting in the audience, who looked bewildered by the action on stage.
She was successful of earning a lot of remarks from her critics. A report in American entertainment magazine includes, "Britney gallumphed around like a zombie," adding she performed like a "tentative, confused-looking girl who could barely muster the energy to mouth along with the backing track."
A newspaper's report described her performance as "disjointed, underwhelming… and plain boring," adding "out-of-shape Spears moved tentatively around the stage, getting totally outgrooved by her back-up dancers."
Kanye West, a hip-hop singer who received five nominations, was also not thrilled that Spears took the plum opening slot.
The outspoken hip-hop star declared, "I can't believe she would perform. She hasn't had a hit record in years."
Britney Spears has been working on a new album for more than a year, although it is not known when it will be released.
MTV brought the show to Las Vegas for the first time, hoping to reverse a sharp slide in viewership for its awards bash.
You could see her pictures here
Comments
comments