Britney Spears wound up a Europe min tour to promote her album Circus with an appearance on UK's X-Factor.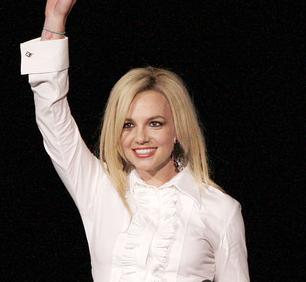 After performing the hit single from the album, Womanizer, at the Bambi awards in Offenburg, Germany, on Thursday, and on Star Academy, France's American Idol, on Friday, Britney, repeated the Circus themed performance on Simon Cowell's show on Saturday, November 29.
Choosing not to risk a wardrobe malfunction, like the one that almost occurred with her red strapless bustier dress on Star Academy, Britney opted for a more conventional neckline on X-Factor, and also doffed her hat.
The pop star, on a comeback trail and still not completely comfortable under the arc lights, chose the safety of a Nike slogan instead of originality of thought when asked for her advice to the aspiring singers.
Britney Spears declared: "Just keep doing it. I met so many different people and I love being here in London. It's awesome."
Comments
comments