Adnan Ghalib, who was a paparazzi beau of Britney Spears, has reportedly recorded six deranged video diaries of the troubled pop star and is hoping to sell them for a whopping 2 million dollars.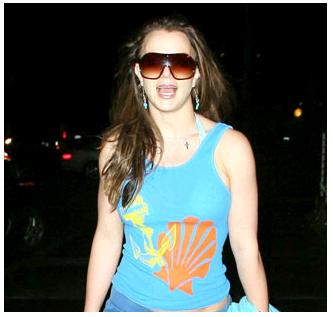 The British paparazzi has been filming the "Gimme More" singer's bizarre antics following her recent breakdown, and is planning to sell the clips to the highest bidder. He believed that he'll net over 2 million dollars by exposing the troubled pop singer but a source that claims to have seen four of the six recordings, revealed that the videos are like something out of a horror movie.
A source revealed, "It's like something out of a horror movie. Britney spends the whole time ranting, raving and weeping. It's not entertainment. Adnan is just determined to wring as much out of Britney as possible before their relationship burns out. But these videos are a step too far. They're sinister and disturbing and show Britney at her very lowest."
First clip shows the 26-year-old singer sitting on her bed wearing a nightie and talking about herself in the third person as well as rambling about her childhood.
She's heard saying: "When Britney was a child, she had to work really hard. When she was 13 years old, she won all the beauty pageants."
The second clip shows the singer wrapped in a white bath towel, again perched on the edge of the bed. Talking to thin air, mumbling: "Britney has an angel looking out for her, don't you, angel?"
And the third clip shows Britney talking to Adnan, who's holding the camera, and calling him by his pet name Bubba.
She smiles: "I'm really happy. Bubba's here for me now. It's all good."
The photographer is still withholding clips 4 and 5, but clip 6, which was reportedly filmed last week, shows Britney crying hysterically after a night out.
With mascara running down her face, she wails: "Britney wants to live. I'm not crazy. I miss the kids and I did love Kevin."
The source added, "Adnan's sunk lower than ever. He's proved himself to be a manipulative rat by making these tapes and he's convinced they're worth at least 1 million pounds."
Meanwhile, Britney Spears was spotted turning her exit from Starbucks into a catwalk recently. She was sporting a blue tank top and velours sweatpants and in the rain. She was also seen during a visit to a psychiatrist Deborah Nadel's Santa Monica home for about an hour on Friday.
She was also awarded International Album Of The Year for Blackout at the NRJ Awards, a report claimed that the singer couldn't make the Cannes ceremony because she was too busy doing something far more important – buying a bra.
Comments
comments