Miley Cyrus, who landed in the front cover of US Magazine, led a new generation of power girls who are pledging not to wind up with the same sad fate of other young Hollywood celebrities.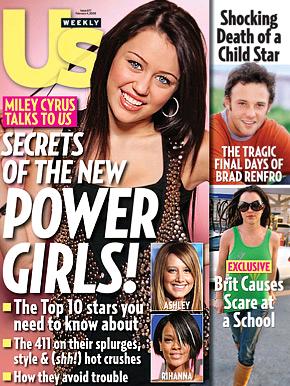 The teen star topped the US magazine's list of ten most powerful girls in Hollywood. The magazine indicates, "Currently on a sold-out tour as her Disney darling alter-ego Hannah Montana, Miley Cyrus does it all – singing, dancing, acting, and merchandise deals – with nothing but smiles. The superstar earned $3.5 million last year."
The 15-year-old star, who was Hollywood's No. 1 power girl in the list, was offered this tip to today's troubled young stars.
The "Hannah Montana" star said, "The most important thing is really staying true to yourself. That's what my mom taught me. She's the most beautiful girl, not only on the outside but on the inside. She's teaching me how to be a good person."
Other young ladies, who was included in the list, revealed what they keep their heads on straight.
Amanda Bynes, 21: "I don't like to drink. I have definitely stayed out of the party scene. I've been offered to go to those parties, but I feel like I would be the one who would die if I did something." On today's out of control club-goers, she added, "I don't know how they think they're gonna live forever."
Ashley Tisdale, 22: "I don't drink, and I don't smoke. It's a personal preference. My mom has never drunk or smoked. I look up to my mom." On Hollywood counterparts can find time for clubbing, she added, "I don't understand how people do it —I work non-stop! Then when I'm done working, I'm just so tired I just want to be home."
Taylor Swift, 18: "Clubs are just not where I want to be photographed. For everything I do, I think about a 6-year-old girl and her mom that I saw at my concert last night. I think about what those two individuals would think if I were at a club last night. I never want to be arrested, and I never want to get a DUI. Those are my moral values. I am an over-achiever, and I want to be known for the good things in my life."
Raven-Symone obeys a rule: "I like to be in by 1 or 2 a.m. because [you can get in more trouble] at night. Anytime really, but the night scares me sometimes."