Britney Spears tried to make peace with her army of paparazzi followers on January 19 when she invited a small group of snappers into her Los Angeles home to party with her.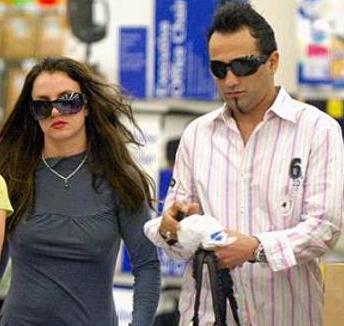 Four photographers were arrested and charged with reckless driving in Los Angeles on January 16 after a high-speed car chase in pursuit of the troubled pop singer.
The "Gimme More" singer felt so bad for the snappers, she decided to make it up to them at the weekend. According to a report, the pop star picked out photographer Filipe Teixeira from the crowd and asked him to join her in her Mercedes-Benz so that she could personally apologies for Wednesday's events.
The singer then invited Filipe Teixeira, who was one of the four men arrested by Los Angeles police, to follow her back to her mansion, where they drank champagne and partied with two of the other snappers for four hours, according to various internet reports. She had a special interest in Filipe Teixeira, who is alleged to have first introduced the singer to her paparazzo boyfriend, Adnan Ghalib.
Meanwhile, it was reported that Britney Spears has filed a restraining order against Adnan Ghalib after reports she is pregnant with her third child.
The troubled star was spotted browsing for home pregnancy testing kits in a Los Angeles pharmacy earlier this week, accompanied by her paparazzo boyfriend Adnan Ghalib.
But the Toxic hitmaker dispelled the rumors, saying, "I never had a pregnancy test. It was for my friend."
Britney invited two photographers inside her home last evening. At one point in the discussion, Sam took a paper out of his pocket — it was a restraining order against Adnan Ghalib. He said, "Look at this!"
Britney Spears expressed disappointment and anger toward Adnan Ghalib for being "set-up" in photographs that Adnan and his agency have sold of Britney and Adnan together."
The troubled pop star's manager Sam Lufti said he hoped the order would keep Adnan Ghalib away from Spears and stop him selling any photos he took in her home.
According to a report, friends as saying Britney Spears dumped Ghalib after being shown proof that he was tipping off colleagues at his agency about their whereabouts so they could secure exclusive photos to sell to the media.
Comments
comments