Jennifer Aniston, who has been linked to a lot of guys but not confirmed, has sparked another romance report.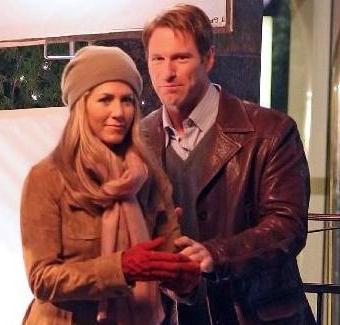 The "Break-up" actress is working with Aaron Eckhart and since they are likely talking in set that has been moved forward to a flirtatious relationship.
The actress was snapped filming her new movie with on-set squeeze Aaron Eckhart on Thursday in Vancouver, Canada. According to a report, the pair was very cozy in between takes. Could this be the new guy for the actress?
The pair is shooting for the film "Traveling." The film is all about a widower (Aaron Eckhart) whose book about coping with loss turns him into a best-selling self-help guru. On a business trip to Seattle, he falls for a woman (Jennifer Aniston) who attends one of his seminars.
The actress played the role of a florist who falls for the leader her self-help seminar. And while her on-screen character finds love, Jennifer's friends are doing all they can to ensure it blossoms in real life, too.
The Californian beauty was previously linked to Kevin Connolly. One of Jennifer's friends has revealed, "Physically, Kevin is not Jen's type. She usually goes for taller guys. But Jen likes men who can make her laugh, and Kevin kept her in stitches during the trip."