Britney Spears is being honored with a plaque to commemorate the amazing success of her current album, Circus, which was recently certified platinum by the RIAA.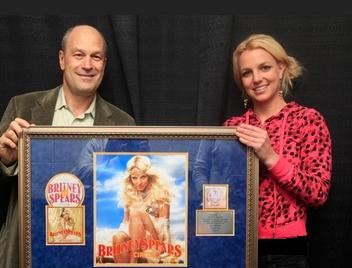 On Monday, the folks over at Brit-Brit's record label, Jive, presented her with the gift, which features a copy of the Circus CD and a large promotional photo of Britney herself.
Meanwhile, Britney Spears' dramatic turnaround from a troubled personal life and stalled career has come with a cost of $2.7 million in legal fees, according to a report.
A sizable chunk of the total was the $417,000 price tag for legally ending her 2 ½-year marriage to Kevin Federline, and the subsequent custody battle over their children.
Attorneys for the singer's father Jamie Spears filed a document Monday showing how much his court-ordered control of her business and personal affairs has cost so far. Fees were split among 17 lawyers and firms, including $1 million for Spears' own attorneys. That amount, said the attorneys, covered the "complex and challenging" issues the singer has faced in getting her life back on track.
"Since the initiation of the conservatorship, as a result of the concerted efforts of Mr. Spears as well as the professionals involved, all aspects of Ms. Spears's life have been stabilized and continue to improve," lawyer Geraldine Wyle wrote. She added that the singer's mental health continued "to mend," that she had regained "substantial visitation" with her children and that her career "has been revitalized."
Comments
comments