Britney Spears has put her former husband, Kevin Federline, on a diet.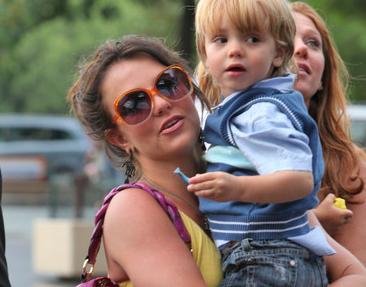 Federline, who is the father of Britney's two young sons, has piled on the pounds over the past few months and Spears has ordered him to get back into shape!
Spears, 27, also jokes about her former spouse's huge belly.
"She'll ask him, 'When is the baby due?'" a source told American tabloid the National Enquirer. "Britney called him a 'fat housewife' and he just laughed.
"He says he's gained weight because he is happy and content, but Britney says he is just fat and lazy."
"Britney insisted he go on a diet and stop showing their kids that it is OK to be fat and sloppy," the source added. "She's worried his eating habits are setting up the kids to make poor food choices.
"Kevin was more than irritated by Britney's demand, but he's going along with it for now."
"Kevin," a pal added, "loves pasta, burgers, fried chicken — and graham crackers loaded with jelly and chocolate.
"He also drinks a lot of alcohol. Kevin loves to pig out. And he says he doesn't have to worry about his looks, because women still love him."
Meanwhile, Four Swedish national newspapers plan to boycott Britney Spears' upcoming concert at Stockholm's Ericsson Globe Arena on July 13 to protest against restrictions on the use of event photographs.
Media outlets covering the event are being asked to sign a contract that prohibits them from publishing any photographs deemed unflattering to Britney. Ownership of good photographs will rest with Britney and the media will not be allowed to publish them after 30 days.
"If they don't rip up the contract, we're not going to take any pictures," Roger Turesson, the photo editor at Dagens Nyhter (DN), told Sweden's English language newspaper, The Local.
"We never agree to give up ownership rights to our own material," said SvD photo editor Joakim Ståhl.
Concert promoters, AEG Live, have thrown up their hands in exasperation saying the demands are originating from Britney's management.
Photographers in Denmark are contemplating joining the boycott by the four newspapers in a show of Scandinavian solidarity.
"On behalf of the Danish press as we have chosen the same procedure," Claus Lunde, photo editor of Denmark's Ekstra Bladet newspaper, told The Local.
Comments
comments