Britney Spears has denied news reports she's pregnant with her third child.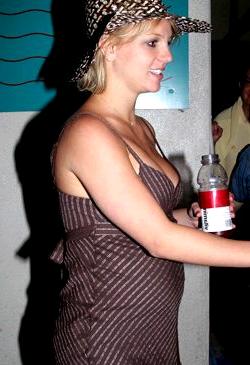 American publications have reported the troubled pop singer is four weeks pregnant with music producer J.r. Rotem's baby and the young mogul has reportedly confirmed the news overnight.
J.r. Rotem, who has dated Spears on and off throughout 2007, allegedly confirmed, "It's true."
The Toxic singer, who turns 26 on Sunday reportedly emailed close friends a copy of her baby's ultrasound on November 16th, swearing her confidantes to secrecy.
But now Britney Spears is speaking out about the story, insisting she is not with child.
After spending the night shooting a video for her new song "Piece of Me" in Hollywood, the "Gimme More" singer sent a cell phone text to Los Angeles radio host Ryan Seacrest to rubbish reports early on Wednesday.
Heading home "to sleep" after the all-night shoot, the singer wrote, "It's B.s, I don't know who made it up. J.r. doesn't even know what's up. It's fake, completely fake."
The singer then apologized for not phoning into the show, explaining, "(The) paparazzi are trying to kill us, otherwise I'd talk."
Comments
comments