Britney Spears rushed her two-year-old son to hospital after he suffered a suspected seizure recently.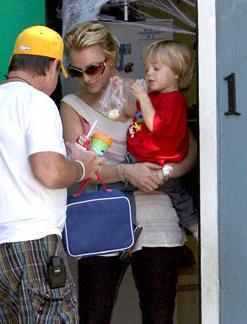 According to sources, Jayden James was taken to an emergency ward after lapsing into a "vague and unresponsive" state during a long-awaited family trip to the singer's hometown of Kentwood in Louisiana.
The entire Spears clan made the 25-mile dash to Southwest Mississippi Regional Medical Centre, Mississippi, including sister Jamie Lynn Spears.
Doctors were unable to reveal the problem straight away and kept the toddler in for overnight observation. But it is now thought the toddler suffered a severe reaction to something he ate.
Distraught Britney, 26, refused to leave his side and asked for a bed next to him in the ward.
Former husband Kevin Federline is now believed to be making plans to jet out and also be by Jayden's bedside.
Sources say chaos erupted when the toddler suffered a suspected seizure out of the blue, at about 3pm on Sunday.
One revealed: "One minute Britney and her sons were relaxing and enjoying their first visit to Kentwood in months, and the next minute Jayden had fallen ill. He was vague and unresponsive so Britney dialed an ambulance. But she was told it would take half an hour to arrive, and she was best trying to get Jayden to the hospital herself."
Another added: "They tore off so fast it was incredible."
The trip was the first time Britney has been allowed to take her sons out of LA since Kevin was given custody.
A representative for the Spears family revealed: "Jayden James was admitted to the Southwest Mississippi Regional Medical Center on Sunday. Doctors concluded he had a reaction to something he ingested."
Update: Britney Spears' 2-year-old son Jayden James has been released from the hospital. It marked the first out-of-state trip for the trio since Spears lost all custody rights to former husband Kevin Federline earlier this year.
Comments
comments