Carrie Underwood may see herself as a country singer first and foremost, but her high-energy concert in Glendale on Friday showed how easily the American Idol winner's music crosses over to pop and rock audiences.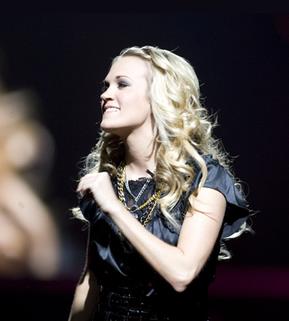 The "American Idol" star used an abundance of star power to take concertgoers into all corners of her catalog, which has racked up nearly 11 million in sales with just two albums.
She used a handful of costume changes to set the mood for various segments of the show at Jobing.com Arena, but her vocals were overpowering no matter what the outfit was.
The 25-year-old singer rose onto an elevated platform to start the show, decked out in a short, black satin skirt, dark tights and lace-up boots singing the Southern rock-flavored Flat On the Floor, from her latest album, Carnival Ride.
The song showcased her solid seven-piece band, which looked like a collection of young rockers, even though it boasted a fiddle and banjo at times.
Underwood immediately shifted gears, moving into the pop-heavy title track from her debut album, 2005's Some Hearts. Her vocals then started warming up for liftoff during the pop-rocker Wasted.
Those soaring vocals were unleashed during such lower-key songs as Jesus Take the Wheel, I Know You Won't and Just a Dream, as well as the raucous Last Name and a cover of Guns 'N Roses' Paradise City.
Underwood drew a diverse crowd of more than 8,000, no doubt a combination of country and pop fans and American Idol loyalists. And although she seemed happy to rock out in a leather jacket during her encore, she also was willing to play up her sweeter side during All-American Girl.
She brought an 11-year-old girl onstage to join her on that song and joked that "I may be losing my job" after her young friend nailed her parts.
Later, Underwood flirted with the crowd, moving down a long runway that led to a smaller stage three-quarters of the way back on the arena's floor. After asking the women about the guys in Glendale (drawing a mixed reaction), Underwood sang The More Boys I Meet as she strolled down the runway, eying male fans.
"I'm looking for Prince Charming," she said, but added that, as the song's punch line indicates, her dog is the current man in her life.
Underwood sat on the smaller stage, played an acoustic guitar and wrapped honey-smooth vocals around the poignant Don't Forget To Remember Me. She also did a nice job on Randy Travis' I Told You So.
The singer, who recently said she needs to work on her stage banter, cracked the crowd up talking about the need for "good personal hygiene" when traveling on a tour bus with others. She also joked about co-hosting this year's CMA Awards and observed that in country music, "ninety-nine percent of all the people you meet could be your neighbors."
Whether she was dressed in a ballgown that made her look like a human Barbie doll, a classy dress that was left when the bottom of the gown was pulled away during the twangy I Ain't In Checotah Anymore or jeans and a casual top as the show wound down, Underwood received strong reactions from the crowd.
This is the Oklahoma-born singer's first headlining tour, but it no doubt will be far from her last.
The vocal-heavy quartet Little Big Town did a great job of warming up the crowd.
The group, augmented by a drummer, bass and lead guitarist, puts a fresh spin on country, mixing traditional and modern sounds.
Rootsy rockers like A Little More You and Novocaine had audience members up and moving, as did a rowdy new single, Good Lord Willing.
Karen Fairchild, Kimberly Roads, Jimi Westbrook and Phillip Sweet (the last two also playing guitars) make a joyful noise on anything they tackle.
Underwood didn't restrict the group from using the runway and small stage, as some headliners do, and Little Big Town took full advantage, happy fans as they moved about.
This group has been together for 10 years, finding big commercial success in 2005. That experience showed as it delivered satisfying versions of such hits as Good As Gone, Boondocks and the inspiring newer track, I'm With the Band.
Comments
comments