Hugh Grant embarrassed diners by openly kissing and caressing a mystery brunette in a London restaurant.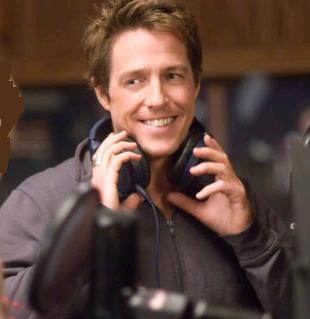 The "Notting Hill" actor and the unnamed Eastern beauty spent 20 minutes canoodling as his male friend stroked the woman's leg in the full view of shocked onlookers at the Roka eatery last Thursday.
Hannah Crow, 30, revealed, "They sat on the sofa next to us with the girl in the middle. Soon, Hugh started kissing her full on. It was disgusting; they were completely going for it. It was brazen. But he didn't seem to care. The other guy started touching the girl's thigh, but weirdly tried to appear as if he wasn't doing anything. I've never seen anything like it. It wasn't normal."
The mystery woman then put her arms around both the men and started gently caressing their hair, before Hugh, 47, got even more sensual by teasing her mouth with his fingers.
Hannah Crow added, "Hugh put his fingers in her mouth. She was sucking his fingers."
The trio left the venue together at around 1.30am.
Last week, Hugh Grant was left humiliated after unwittingly flirting with prostitutes in a bar in the exclusive Spanish resort of Puerto Banus.
Comments
comments