Britney Spears looked like she was having anything but fun when she unveiled her new peroxide extensions in LA yesterday.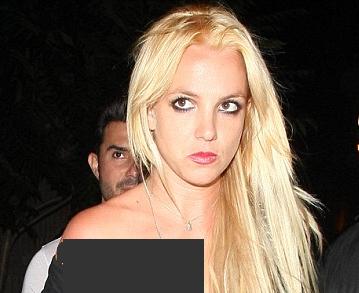 Following a lengthy session at the Andy Lecompte Salon in West Hollywood, Ms Spears emerged with her lank brown locks totally transformed.
With her newly svelte – and braless – figure poured into a black Lycra dress, she hit the Grand Star Jazz Club for a night on the tiles.
However, even the prospect of partying wasn't enough to raise a smile, and the Toxic singer's expressions ranged from moody pout – to deranged glare.
But perhaps Britney was just out of the swing of things. Fresh from touring Europe, she hadn't been spotted on the LA social scene for quite some time.
When not performing, she was frequently seen with her two sons, Jayden James, two, and Sean Preston, three.
Reportedly, the singer had struck a deal with with their father and her ex-husband Kevin Federline, in which he received $5000 a week for bringing the boys on tour with her.
Although their breakup was acrimonious, relationships seem to have thawed between the pair. K-Fed is currently dating new girlfriend Victoria Prince, while Britney is rumoured to be romancing agent Jason Trawick.
Recent pictures of a diamond on her ring finger even sparked speculation that the pair were engaged.
Meanwhile, a report suggested that the reblonded Britney Spears caused a sidewalk circus as she was spotted exiting Andy Lecompte's hair salon in West Hollywood.
Comments
comments