Britney Spears' star is rising and MTV has released two TV spots featuring her to promote the Video Music Awards that air live on September 7.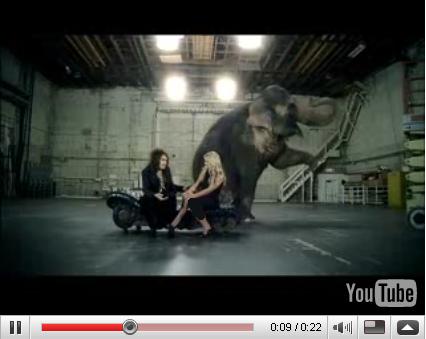 The videos show Britney Spears in banter with VMA host, Russell Brand, with a 9,000-pound elephant serving as the backdrop.
In the first commercial Russell asks Britney Spears to pinch him so that he is sure he is not dreaming his encounter with her.
British comedian in the ad, revealed:"You are Britney Spears, right? I'm not dreaming this am I." Britney Spears assures the show's host and pinches him to prove it, said: "No, this is real."
In the second spot, Brand, who is well known in the U.K. but not in the U.S., presses Spears to remember his full name – which she doesn't.
He quipped: "You will remember that name because I think pretty soon it's going to be your surname. Britney Brand."
The second commercial takes a dig at Russell's relative anonymity in the US as Britney fumbles in her attempt to recall his last name and ends up calling him Russell Brown.
The British comedian gets back at her telling her, "You will remember that name, because pretty soon it's gonna be your surname."
Britney Spears has been nominated in two categories for MTV Video Music Awards 2008 for the song "Piece of Me" from her last album "Blackout" : Best Pop Video and Best Female Video.
Despite 17 nominations Britney Spears has yet to walk away with a VMA.
A source revealed: "Britney looked really good. It was improvisational questions and answers with [host] Russell Brand just like [other promo guest stars] LL Cool J and Pete Wentz did. Russell joked about there being sexual tension, and Britney shot back, 'I don't feel the tension'. The other joke was about no one knowing who Russell was so she called him by the wrong name. LL called him Russell Bland and Britney called him Russell Brown."
Comments
comments