Adnan Ghalib, the paparazzi beau of Britney Spears, bragged to family and friends two years ago that he planned to steal the heart of a Hollywood star so he could secure an exclusive that would net him a fortune.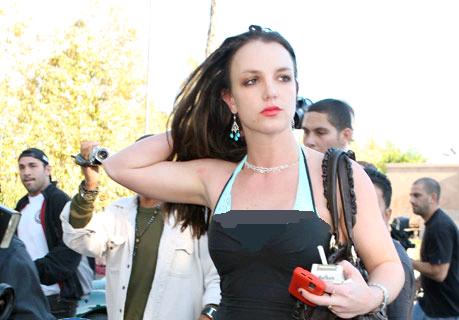 And he confided in pals that he had set his sights on Britney after spotting her vulnerability while trying to snatch pictures of her. And the troubled pop singer was telling her friends how much she's in love with the paparazzi beau and that she plans to marry him and convert to his faith, Islam.
Britney has told friends she is prepared to embrace Islam to spend her life with Adnan Ghalib. Incredibly, one of his relatives told us, "Although his father has disowned him, there is still a way back—if Britney became a Muslim and they got married."
In Britney's crazier moments she's even been threatening to fake her own death to start a new life with him in Pakistan. She told one of his cousins in an astonishing phone call, "I love him. Don't worry, I'll look after Addy the Daddy."
Then on Friday, in a gesture seemingly aimed at former husband Kevin Federline, Britney Spears visited an LA car dealer in the dress she wore to their wedding.
Now we can reveal that Adnan Ghalib's Sunni Muslim family in Birmingham are so horrified by his antics they have disowned him. A family member revealed, "His parents Ghalib and Saghra are devastated. This week his dad gave him an ultimatum, 'Give up Britney, or you are dead to me,' which Adnan ignored."
Instead, in a phone call to a relative, the photographer claimed he had deep feelings for the star, insisting they had discussed marriage. It was during the same call, Britney grabbed the phone to insist: "We're taking care of each other. He's the only one who understands me. It's serious."
A source close to Britney said, "Monday's court hearing is D-Day for her and the kids. While she's been swanning around with Adnan, Kevin's been preparing for the court showdown to end them all. He has no confidence in her ability to look after either herself or the children."
Meanwhile, sources said that Adnan Ghalib is cynically manipulating Britney and has even promised topless shots of her to industry cronies.
A source revealed, "Adnan is a smart guy who grew up streetwise in Birmingham and has always known how to make things work. What he did with Britney was not take photographs of her. Whenever she was vulnerable and the pack were flashing shots of her in a really bad way, Adnan would make a careful show of putting down his camera to help her with bags or into a car. Over time she grew to trust him, and all the while he was giving her his card and even sending flowers. He knew not to rush it, and because he was different with his accent and foreign looks, she began to believe he was different from all the rest. But it was all part of his master plan."
Another source said, "He was just a snapper stalking her for money until very recently. Now she's giving him unfettered access to her life. He's already saying he can get exclusive topless shots of her and wants big money in return."
Comments
comments