Paris Hilton has been spotted pulling another publicity stunt with an engagement ring on her finger.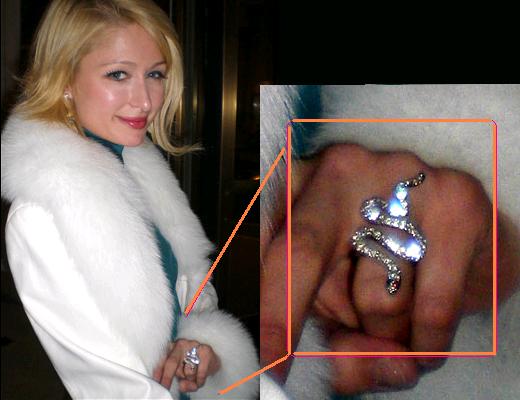 The socialite was spotted flashing a snake-shaped diamond ring after dining out with friends in Beverly Hills last night.
An onlooker revealed, "Paris was getting a lot of attention and was really showing off her engagement finger to photographers. I've not seen anything like it before. It was very unusual."
But if the engagement ring is for real, then who exactly would Paris be heading up the aisle with?
The hotel heiress had appeared to have rekindled her relationship with model and pizza boy Alex Vaggo before Christmas, however here she is pictured out and about with a mystery dark-haired man.
Meanwhile, Paris Hilton was seen at the Cut restaurant last night, where the Cruises spent three hours dining together after the premiere of Katie's new film "Mad Money".
The trio is not known to be friends, but Hollywood's a small town, and they're sure to have crossed paths before.
In any case, it appeared to more than a coincidence that Paris was in attendance at the Cut restaurant in Beverly Hills where the world's most famous Scientologist and his young wife were dining.
Hollywood's first couple were said to have spent three hours at the restaurant, but they emerged alone, and Paris was seen leaving separately.
Comments
comments