Britney Spears, who is planning a pre-birthday jaunt to Europe after announcing a second TV appearance on a talent show, will be celebrating Turkey Day overseas.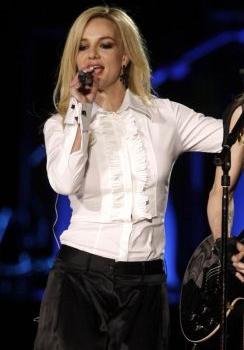 The pop star, who who returned home to Kentwood, Louisiana, on Friday with sons Sean Preston and Jayden James, has already confirmed that reports she'll perform live on British show X Factor later this month (Nov08) are true, and now she has agreed to appear on French show Star Academy on 28 November (08).
An announcement on her new website indicated: "Looks like Britney will be spending her Thanksgiving holiday in Europe!"
The appearances are to promote Spears' sixth album Circus, which is released on her 27th birthday (02Dec08).
She wowed the crowd Thursday at L.A.'s Dodger Stadium when she joined Madonna on stage to perform "Human Nature."
She wrote on her website: "Just left the Madonna concert. It was really fun!"
Comments
comments