Brooke Hogan has been busy peeling out of her bikini to promote her new reality TV show "Brooke Knows Best" and bumping and grinding and showing off for her an audience that included dad Hulk Hogan, the former WWE legendary wrestler and now the host of NBC's American Gladiators.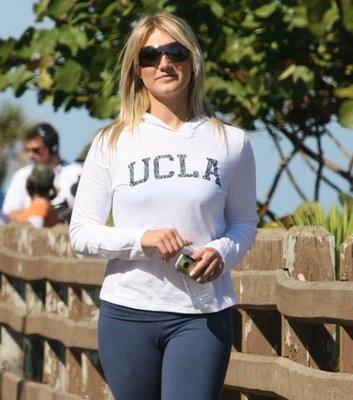 But is it time for her to strip down to nothing and play like Kim Kardashian and pose for Playboy Magazine.
Earlier reports have claimed that the magazine wants Brooke Hogan nude and it appears that the story is still being moved towards her giving the magazine offer serious consideration.
Kim Kardashian did well with her pictures and certainly she worked the entire stripping for Playboy drama quite well in her reality TV series that features her family "Keeping Up With the Kardashians."
Now, according to a brand new report, the offer from Playboy is serious. Brooke Hogan, whose new VH1 reality show, "Brooke Knows Best", debuted on July 13, may be about to get a lot more exposure.
An insider revealed, "Playboy has asked her to consider doing a cover or at least a photo shoot."
The insider added, "Every year the magazine features the girls of the WWE, but this would be the daughter of Hulk Hogan!"
The magazine muses that there is no word yet on whether Brooke, who turns 21 next May, has consulted her dad on the matter. But rest assured that skeptics will claim he will be all for it as long as he can be there during the photo shoot. His last visit was to Brooke's weird strip show and those photos are here. Will Brooke strip for Playboy? It's a great offer and surely would boost her show.
Comments
comments