The Los Angeles school superintendent is demanding an explanation how movie prankster Sacha Baron Cohen was allowed to do a publicity photo shoot at Birmingham High School, wearing not much more than a paper cup as a jockstrap and pretending to sexually abuse a prone football player.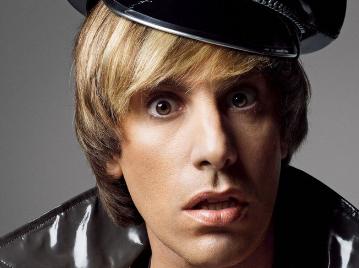 Cohen apparently had school permission to pose with the Birmingham Patriot football team for an upcoming publicity campaign for his second major release, "Bruno," where he portrays an over-the-top gay fashion journalist.
The Daily News reported that photos of Cohen's character will appear as a part of a racy GQ magazine photo shoot with him wearing a shiny, form-fitting swim trunks, and an attached external athletic cup, working out with students in full uniform, the Daily News reported.
One of the photos features "Bruno" in a sexually-suggestive pose with a high school student, in uniform, doing pushups, the paper reported.
"I hold the principal and the athletic director accountable, and I have asked the local district superintendent to take appropriate action," said Los Angeles Unified School District superintendent Ramon Cortines, in an interview with the Daily News.
District officials told the newspaper that principal Marsha Coates and Athletic Director Richard Prizant were aware of the photo shoot.
"Permission was obtained from the athletic director, who is the school's point person for Film L.A. Ultimately, the principal is responsible," Jean Brown, the local district superintendent for schools in the West San Fernando Valley area of the district, told the Daily News.
"Bruno" is scheduled to be released in theaters July 10. As part of the publicity buildup for the movie, Cohen appeared on the MTV Movie Awards May 31 in a similarly revealing costume.
Comments
comments