Zac Efron got trapped in a theatre seat as he was "mortified" by the accident which took place during the filming of 'High School Musical 3: Senior Year'.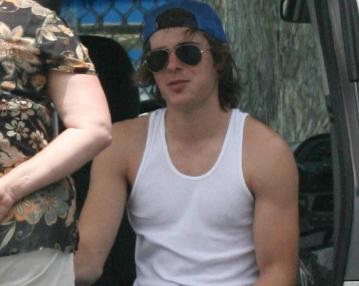 He said: "I don't know how it happened but my foot slipped through a theatre seat during filming and I couldn't get it out.
"It was so funny because they had to take the seat apart to rescue my foot. The cameras had to stop rolling and people were brought on set to unscrew the bottom of the chair. I was mortified."
Zac – who is dating his co-star Vanessa Hudgens – also revealed he enjoyed playing pranks on the cast with a prosthetic hand.
He said: "We had a lot of fun with a mannequin's hand on set. I'd put it in my sleeve and place the fake hand in my pocket – my real hand would be hidden underneath the front of my shirt. When people least expected it, I would punch out my real hand – and they would think there was an alien popping out of my chest! People were screaming out loud in terror!"
Meanwhile, Zac Efron loads up in a small sailboat to get some lessons at Marina del Ray in Los Angeles on Friday afternoon (June 26).
It appeared that he is preparing for The Life and Death of Charlie St. Cloud. In the novel, cemetery caretaker Charlie's world gets shaken up by beautiful Tess Carroll, a sailor who had plans to be one of the first women to circumnavigate the globe solo.
After some sailing lessons on the Toy Story sailboat, Zac munched on some sushi.
The Life and Death of Charlie St. Cloud is set to start filming in Vancouver in August this year.