Calum Best forced a hotel butler to join in a game of strip truth-or-dare with him and two models.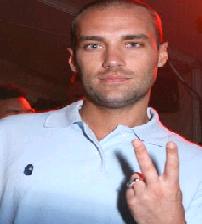 The model was staying at New York's SoHo Grand hotel in May when he called room service for some cigarettes.
A hotel source said, "The hotel employ a guy called 'The Provider' to attend to the every need of VIP guests. He is a tall, gorgeous, straight black man who'll bring you flowers if you want them, make your travel arrangements, bring you food from Nobu if you need it. Anything, anytime."
The source added, "He was called to bring cigarettes to Calum's room. Lindsay wasn't there but Calum was playing strip truth-or-dare with two models, and they were all fairly bored with one another and wanted a little fun. So they told 'The Provider' to join the game. He wasn't sure what his job requirements extended to, but he thought he had better obey the guests!"
A representative for the hotel was unavailable for comment.
It was recently revealed that Calum Best had dumped Lindsay Lohan because he doesn't like her being sober since leaving rehab.
Comments
comments