Cameron Diaz and Jennifer Aniston have decided to settle their difference through a love truce.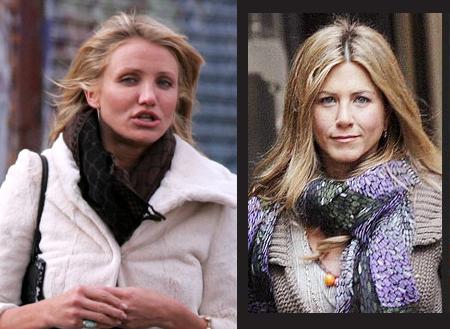 The Hollywood actresses, who are both dating each other's former boyfriends, decided to put their differences aside. They talked about the awkward situation that they have found themselves in.
Jennifer Aniston is romancing singer John Mayer, who dated Cameron last year, while the "Charlie's Angels" star is dating British model Paul Sculfor, who had a brief fling with the former 'Friends' actress.
A source revealed, "Jennifer [Aniston] is friends with Cameron [Diaz]. They had a chat about the situation because Cameron felt a bit awkward about dating Jen's ex. But Jennifer is really easy-going and cool about it."
Cameron and Paul Sculfor's relationship is said to be getting serious and the couple are planning to move in together.
A friend revealed, "Cameron and Paul have been spending every night together. He doesn't have a house in Los Angeles and Cameron doesn't mind him staying with her. When he dated Jennifer Aniston he used to stay at hotels, but Cameron likes him a lot and always wants to be around him."
Cameron Diaz, 35, recently sparked speculation she is set to wed by sporting a diamond on her ring finger.
The blonde beauty flashed the dazzling band as she left Los Angeles' exclusive Nobu restaurant.
Jennifer Aniston, 39, is also said to be getting serious with John, 30, and has introduced him to family and friends.
Comments
comments