Cameron Diaz and John Mayer meet up again for a sizzling night out and Cameron is, once again, hot on Mayer's playlist.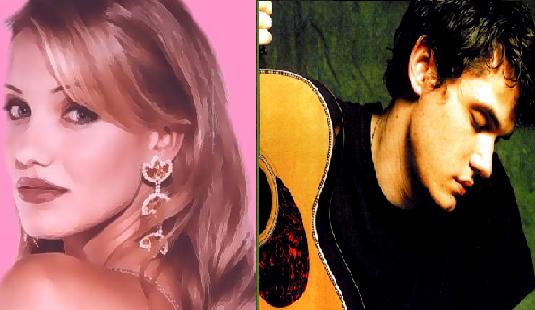 After first getting cozy last August, Mayer and Diaz moved on to other flings in the fall (he dated Minka Kelly, 27, and she started seeing Bradley Cooper, 32). But now it seems the dating-crazed couple are back on.
Or at least, they were for one night, according to a report. The report indicates that on November 30, the guitar wizard, 30, and the still gorgeous actress, 35, arrived together at NYC's GoldBar, according to a witness.
A source revealed, "They were totally on a date. They kissed and were holding hands." A little after midnight, the pair began dirty dancing to Jay-Z tunes.
The source added, "They were grinding into each other. At one point, John jumped up to dance on a table, and Cameron cheered him on. Then they sat down and snuggled the rest of the night. John and Cameron have stayed in touch. He thinks she's totally cool and a lot of fun."
But if you think John has settled down and is ready to get serious with Cameron or anyone else think again. According to the another report, John Mayer zoomed in on Ricki Lake at the Sunshine Sachs PR company's Christmas party. The two talked about Lake's new documentary, "The Business of Being Born," before Mayer confessed, "I've had a crush on you for two years."
Comments
comments