Joanne Sarantoakos, the wife of Criss Angel, has recently separated from the "Mindfreak" star after a secret five-year marriage – hidden to the public to increase Criss's sex appeal to female fans.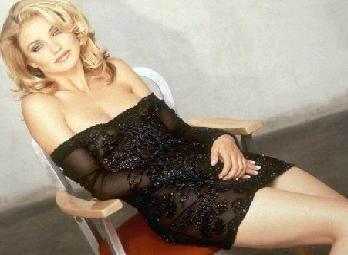 According to reports, the couple has split amongst rumors that the magician was romancing Cameron Diaz.
Cameron Diaz and Criss Angel denied their relationship when reports were circulating that they were the new Hollywood It couple. However, Joanne is willing to prove that they hooked up.
The former wife has filed for divorce and is claiming that her marriage broke down on the grounds of mental cruelty and abandonment. To strengthen her case, Joanne is reportedly prepared to subpoena Cameron to court to testify.
According to the New York Post newspaper, Joanne's lawyer Dominic Barbara told the court, "We're naming Cameron Diaz as his lover. We will subpoena her as soon as she comes back to New York."
An apology is not all Joanne wants. The former wife is after a chunk of Criss's fortune, which has recently escalated after he signed a $200 million deal with a Las Vegas casino.
The lawyer revealed, "He's not paying her support, which is tragic – considering his worth."
Cameron Diaz was linked to Criss Angel soon after she split from Justin Timberlake.
Comments
comments