Cameron Diaz revealed that she's a big fan of "Shrek the Musical" but has no desire to star in it.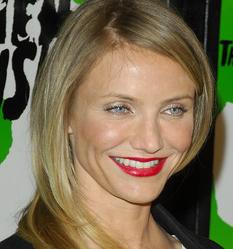 The actress, who voices Princess Fiona in the "Shrek" film franchise, raved about the musical adaptation of the animated blockbuster at its Broadway opening Sunday night.
When asked whether she'd consider portraying Fiona on stage, she replied: "No. Absolutely not. What they do up there … is, to me, impossible. It's wonderful, though. They've done such a great job. They worked really hard, and it really pays off."
In fact, it was Sutton Foster, a Tony-winning actress, who played Fiona in "Shrek the Musical," which began preview performances last month at the Broadway Theatre.
Cameron Diaz, who is wearing a white Bill Blass dress, black Dior coat and bright red lips, continued: "It's hilarious. There's so many laughs. … It's great to see all the actors playing it together, because when we do it for the animated (films), we never see each other. We don't work together."
The actress reprised her voice role in the fourth "Shrek" film, slated for release in 2010. Mike Myers and Eddie Murphy will return as Shrek and Donkey, respectively.