Hugh Jackman's wife thinks Brad Pitt should have been crowned the Sexiest Man Alive.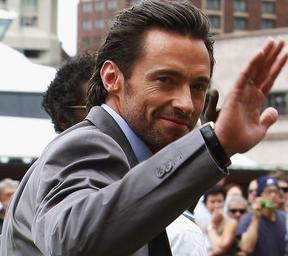 The actor, who recently topped People magazine's annual list of the most attractive guys in the world, admitted his spouse Deborra-Lee Furness was shocked when he was given the title this year.
The "Australia" actor revealed: "The very first thing my wife Debs said was, 'I knew it, I knew I would marry the sexiest man alive.'"
The actor added: "The second thing she did was ask about the process and how I was chosen. She said, 'Who voted? Was is readers? Was it editors?' I said, 'I think it was the editors, there is a think tank somewhere and they look at photos and they work out who is doing a movie at the moment and whose publicist they are on good terms with and then they decide.' So Debs said, 'That means anyone can get it?' And I said, 'Yes', and she replied, 'And Brad Pitt didn't get it?!' "
Brad Pitt has been named the Sexiest Man Alive twice. Other previous recipients include George Clooney and Matt Damon.
Comments
comments