Young actress Camilla Belle was rumored to be having special relationship with Robert Pattinson. And now the 22-year-old beauty dishes on the British actor in the latest issue of Nylon magazine.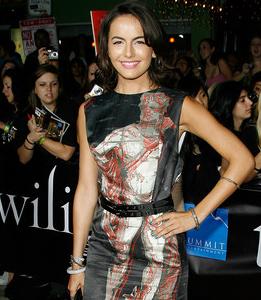 The actress in the February issue of Nylon that Robert, who played hunky vampire Edward Cullen in "Twilight", opened up to her about the stresses of required "media training."
She revealed: "My friend Rob, for that whole Twilight nonsense, the studio was having them take all these classes. It was the most frustrating thing in the world because they want you to speak like someone else, not yourself. It's so silly. And I would be frustrated, too."
The actress, who is now rumored to be dating Joe Jonas, also shares her opinion about her film "10,000 B.C.".
She continued: "The work was frustrating. I felt like a puppet at times. I just had to realize, 'OK, I'm not going to be challenged as an actress.' You have to approach it in that sense: 'This isn't an acting piece, it's a business choice.'"
About working with Bruce Willis in her next film "Three Stories About Joan", Camilla explained: "I was actually really surprised."
The actress added to the magazine: "He's very passionate about the actors. He just wants to spend all the time with us, and we just talked and talked, all about developing relationships and developing the backstory."
Comments
comments