Tom Cruise and Katie Holmes may relocate to London to allow Katie to work in the West End following her stint on Broadway.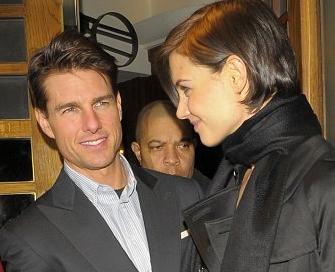 Tom revealed during the London premiere of his new film, Valkyrie: "It would be a fantastic move. Katie was absolutely brilliant on Broadway and to work in the West End would be a joy."
He added: "It is something to consider for both of us. I think we'd love it here, even if it is so, so cold!"
Tom knows all about the London cold having lived in Notting Hill for two years while he was married to Nicole Kidman.
If he goes through with the move he will be joining other US celebrities who have chosen to live in London like Madonna, Kevin Spacey and Josh Hartnett.
Tom and Katie already have a place to stay in while at London: their good friends, Beckhams' seven-bedroom mansion in the city.
Speaking of Beckham, Tom was happy with his move to AC Milan, saying: "It was a great move for David to go to Milan. He's been playing really well. I can't wait to go and visit him there. We still see Victoria in the States – the kids all get on so well. It's lovely."
Katie will start filming in New York for the comedy film The Extra next month. The film additionally stars Kevin Kline, Paul Dano, and John C. Reilly.
It is based on a novel by Jonathan Ames and is being directed by Shari Springer Berman and Robert Pulcini ("American Splendor").
Comments
comments