Carly Massy-Birch was the glamorous brunette who dated Prince William during the prince's first term at St Andrews University.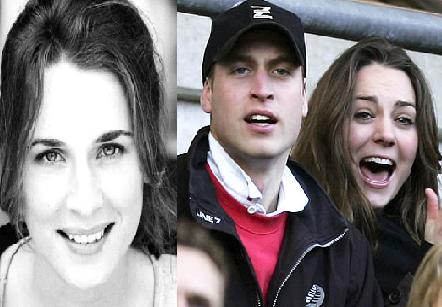 The 25-year-old brunette beauty was reported to have dated the royal prince shortly before he fell for Kate Middleton and it was also reported that there is a rivalry between the two girls.
Now her parents confirmed that their daughter and Prince William were going out for a couple of months when they were "freshers" at the university. But they revealed that there is no rift between Carly and Kate since the two girls are the best of friends.
Mrs. Massy-Birch revealed, "Carly will be really upset that this has come out. She went out with William for six or seven weeks when they first arrived at St Andrews. But there's absolutely no fall-out between her and Kate. In fact, all three of them are best friends."
She added, "Carly has her own partner, with whom she is very much in love. She really wants Kate to marry Wills so that she can be sure of going to the wedding. If he falls for someone else, she's worried that she might miss out."
A diarist from a newspaper has claimed it was common knowledge among St. Andrews students within weeks of the Prince's arrival there in 2001. Soon after the relationship ended, Prince William was seen escorting Kate Middleton to parties.
As for the report that Miss Massy-Birch felt a simmering resentment, her mother insisted, "That really is rubbish. Carly has always been very close to Kate and William, and that has never changed. She has tried so hard to keep her friendship with him quiet – we all have – and so she will be upset by this. It was something that happened and everybody has moved on. She just wants to get on with her acting."
Meanwhile, it was previously reported that Prince William was seen dancing with pretty, blonde 24-year-old Australian make-up artist Shery Scrivener at a party in September 2005.
The blonde beauty told her friend on the night how the Prince had singled her out: "He came straight over, ignoring all the others. It made me feel very special. He focused completely on me … as if nobody else existed. We spent almost all the night dancing together. It was really magical."
Comments
comments