Popular music celebrities Miley Cyrus and Rihanna gained a lot of attention in their short dresses at the In Style and The Recording Academy first ever Grammy "Salute to Fashion" event. The said fashion event was held at Hollywood nightclub Boulevard 3 on February 7.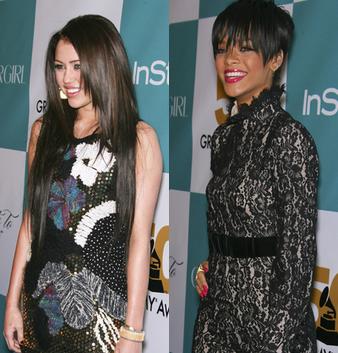 The "Hannah Montana" star wearing a black mini Dolce & Gabbana sleeveless sequined dress with multi color flower patterns. She looked more mature as she left her long dark straight hair open as well as dark eye makeup and ankle strap stilettos that suitably matched her outfit.
On whose would she chose if she could spend a day in anyone's stilettos, Miley Cyrus answered, "Beyonce! Her fashion is different. It's out there and fun."
On the other hand, Rihanna showed off her legs in a shorts outfit as the "Umbrella" hitmaker wore black lace dress with white lining had ruffled lace details on the high neck and the long sleeve cuffs. A black band at the waist accentuated her figure.
The Jimmy Choo peep toe ankle stilettos were the perfect extension to her ensemble. Her short crop and the high neck dress highlighted her beautiful chiseled features.
Her fashion accessories: oversized studded rings on the middle finger of the right hand and the index finger of her left hand looked enchanting with her nails painted bright pink.
She is a Grammy nominee for four songs at the Grammy's this Sunday and she made a special performance at the event.
The Grammy "Salute To Fashion", which is 10-minute fashion show, during the evening presented popular singing sensations such as Beyoncé Knowles, Jennifer Lopez, Sean Combs, Jay-Z, Justin Timberlake and Jessica Simpson. None of the designers were present at the show.