Carrie Underwood, who previously linked to NHL player, survived Simon Cowell and American Idol three years ago and proved her staying power with two hit albums. Yet being up against Rihanna and Taylor Swift at Wednesday's People's Choice Awards is giving Carrie Underwood the shakes.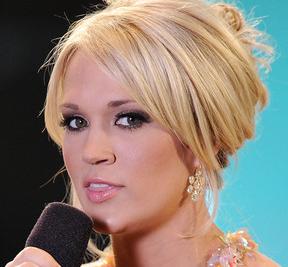 The singer revealed of being up for favorite female singer and favorite country song: "They're both so big, and there's great competition. I'm nervous and so excited at the same time."
Carrie Underwood, 25, is also hitting the stage to perform her ballad, "I Know You Won't," complete with a full orchestra.
She continued: "It's a really emotional song about a guy who just won't call. We've all had that happen, right?"
Perhaps she would maintain her fashionable image as she is set to be donning three different brightly colored gowns at Wednesday's show, to air live on CBS at 9 p.m. ET.
She said of her dresses by George Chakra, Zuhair Murad, and Naeem Kahn: "When I was trying things on the neon colors made me happy."
In a special collaboration to mark both PEOPLE Magazine and the People's Choice Awards' 35th birthdays, a special award will be given to the Favorite Star Under 35.
But win or lose, it's all about the fans as she added: "It means so much that the fans are still supporting me and that I had fans before I even had a career. They've been there with me the whole time."
Update: Carrie Underwood accepts the Favorite Female Singer award during the 35th Annual People's Choice Awards held at the Shrine Auditorium on January 7, 2009 in Los Angeles, California.