Cate Blanchett is so obsessed with facemasks she even wears them in public.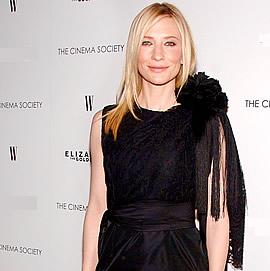 The "Elizabeth: The Golden Age" actress can't get enough of SK-II Facial Treatment Masks, and even wears one while she takes her two sons – seven-year-old Dashiell and three-year-old Roman – to school.
She revealed, "I use a mask every day for about five days if I'm filming or leading up to an event. I've even got over the embarrassment of wearing them in public.
She continued, "I've actually worn it on the freeway in Los Angeles, driving my kids to school, and I always make sure I wear one on the plane!"
Cate Blanchett also revealed she has a secret spot-removing tip which rids her face of blemishes before premieres.
She added, "If I get a break-out, I put on corn flour mixed with water to reduce the swelling. Toothpaste – that's a good one as well."
Comments
comments