Catherine Zeta-Jones had dramatic weight loss that gained attention from the world's media but not all of it flattering.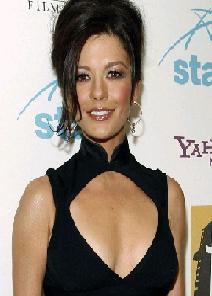 The 38-year-old Welsh actress wore the revealing frock to the Hollywood Awards in Beverly Hills on Monday night.
Although her dress accentuates her nice body like her cleavage, the black dress also managed to hide the protruding collarbones that have worried her fans.
It is obvious that she got a leaner frame. However, a spectator revealed, "Catherine looks fantastic – but definitely does not need to shed any more weight. Catherine has always been pretty voluptuous and proud of her curves. But any excess weight she once carried has disappeared. Her chest and shoulders were particularly defined and even verging on bony."
The spectator added, "Perhaps it was just the very upright way in which she was standing that made her look much skinnier than usual, but Catherine certainly looks to have stepped-up her exercise regime of late. She is looking fantastic though and was absolutely radiating at the party."
Ironically the actress played the role of a chef in her latest film, "No Reservations."
Comments
comments