Friends and co-stars of comedian Bernie Mac are speaking out following his Saturday morning death.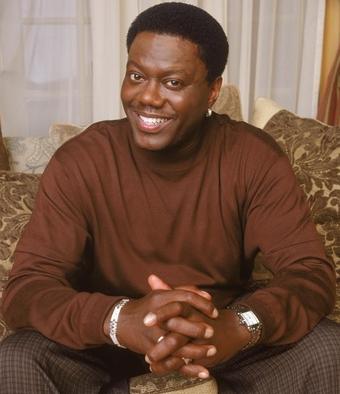 George Clooney, who is the star of "Ocean 13," revealed: "The world just got a little less funny. He will be dearly missed."
Brad Pitt, who is George Clooney's co-star, said: "I lament the loss of a ferociously funny and hardcore family man. My thoughts are with [his wife], Rhonda, and their family. Bernie Mac, you are already missed."
Bernie Mac, 50, passed away due to pneumonia complications early Saturday morning in a Chicago-area hospital, according to his representative. He had been admitted to the hospital August 1, but was expected to make a full recovery after a few weeks of treatment.
Chris Rock, who worked with Bernie Mac in animated flick, "Return to Madagascar: Escape 2 Africa" revealed: "Bernie Mac was one of the best and funniest comedians to ever live, but that was the second best thing he did. Bernie was one of the greatest friends a person could have."
The comedian added: "Losing him is like losing 12 people, because he absolutely filled up any room he was in. I'm gonna' miss the Mac Man."
Ocean's Don Cheadle also revealed in a statement: "This is a very sad day for many of us who knew and loved Bernie. He brought so much joy to so many. He will be missed, but heaven just got funnier."
Cedric the Entertainer, who appeared with Mac on the Grammy-nominated album, "The Original Kings of Comedy," in 2001, says: "It's hard to put into words just how I feel and what a painful loss this is.
Bernie was a brother, a friend and one of the comic masters of our time. Sharing the marquee with him during the phenomenon of the 'Kings of Comedy' tour bonded us like family, and created a unique moment in comic history, marking some of the most meaningful, memorable and fun times of our lives.
His comedic approach was his own brand and will definitely stand the test of time. The level of his talent always inspired me, and other comedians, to 'bring their A-game.' I promise you that you never wanted to be the guy who had to follow Bernie's set! As a husband and father, he was THE MAN and my thoughts and prayers are with his family. He will truly be missed, but so well remembered."
Earlier Saturday, former co-star Niecy Nash said, "His passing is such a major loss to the acting and comedy communities.
Niecy Nash added: "Bernie Mac was the personification of the word 'real.' He kept it real. That kind of genuine spirit that he carried all time cannot be easily duplicated, but I will do my very best to try."
The FOX network, which aired The Bernie Mac Show from 2001 to 2006, revealed in a statement, "Bernie Mac was a gifted talent whose comment came from an authentic, and highly personal, place. He was a tremendous live performer, and a wonderful actor. FOX was proud to be the home of The
Bernie Mac Show, and all of us at FOX and 20th Century FOX Television extend our deepest sympathies to his wife, Rhonda, and daughter, Je'Niece."