Lindsay Lohan has been rejected by Chace Crawford.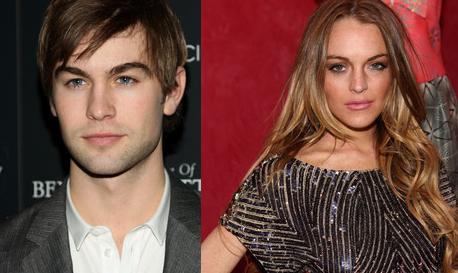 The "Mean Girls" actress, who is in a lesbian relationship with DJ Samantha Ronson, was seen with the "Gossip Girl" actor in New York earlier this week, but friends of Chace insist there is nothing romantic going on between the pair.
A source said: "Lindsay heard that Chace and Emile Hirsch were hanging out at Justin Timberlake's restaurant Southern Hospitality for drinks. But she showed up uninvited and unannounced. She caused quite a scene so Chace left to go back to his place for some more fun."
Lindsay, 22, refused to take no for an answer and followed the actor back to his home, arriving at 6am, only to be turned away again.
The source added: "Lindsay showed up uninvited to Chace's apartment and was not allowed in."
After being snubbed, Lindsay left for the airport to return to Los Angeles.
Meanwhile, the actress is working on a new range of cosmetics and self-tanning products.
Lindsay – who launched a line of leggings last year – is developing the beautifying items for her company Stay Gold.
Lindsay and Samantha's relationship is currently going through a rocky patch.
Last weekend, they were seen arguing at New York nightspot The Eldridge – where Samantha was playing a DJ set for her sister Charlotte's fashion show. Lindsay was also spotted with designer Matthew Williamson during the Matthew Williamson New York Store Opening during Mercedes-Benz Fall 2009 Fashion Week on February 15, 2009 in New York City.
Comments
comments