After four years of fighting words, near encounters and private pain, Jennifer Aniston and Angelina Jolie will finally see each other at the Feb. 21 Night Before the Oscars party in Beverly Hills.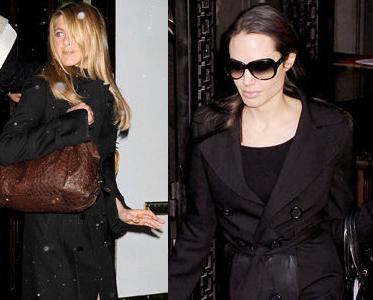 Ever since Brad Pitt split from Jen in Jan. 2005 and hooked up with Angie, the world has waited for this Hollywood showdown — and no one is more anxious about this emotional encounter than Jen.
A source revealed of the 40-year-old "He's Just Not That Into You star": "She has always known that this moment would happen and she's never been more ready to see her nemesis, Angie, in the flesh. She's no longer alone — she has a hot man in her life — John Mayer — and she plans to bring him as her date to the party."
The insider added that Jen has felt very confident ever since reuniting with John, 31, last year after their brief breakup.
The source continued: "It's taken time, but she's getting past her insecurities about Brad and Angie and their huge happy family. Though the meeting is sure to be difficult, Jen knows it has to happen and now couldn't be better timing."
So how do Brad, 45, and Angie, 33, feel about the upcoming showdown? Both nominated for Oscars for their respective films, The Curious Case of Benjamin Button and Changeling, the super couple has been enjoying a whirlwind of PR.
An insider added: "They've shown up for every major awards show and have every intention of enjoying themselves at the party. They don't consider it Jen's turf."
Comments
comments