Telling Fabulous Mag that his split from ex-girlfriend Carrie Underwood last year was mutual and wasn't simple, Chace Crawford says for the time being he is "very much having fun being single" and simply looks for "instant attraction."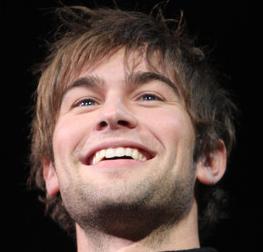 Providing explanation to his statement, he says, "I'm not looking to fall in love and I don't have a type".
Asked to share about his love life prior to dating the country music singer, the "Gossip Girl" actor goes on to dish about his first kiss: "When I was 10. It was my best friend's twin sister. We were on a summer camp and every other guy had a girlfriend apart from me, so we got together. I was a bit of an awkward kisser, but she ended up being my first girlfriend, so I can't have been that bad!" he recalls.
He, moreover, reveals about dumping a formergirlfriend, confessing: "When I was at high school I wrote a note and left it under my girlfriend's windscreen wiper. I felt like I could get everything out verbally that way. I was only 14. I'll never do that again."
Addressing the issue of his tendency to date older women, Chace added: "yes, I've dated older women. They seem to have it a little more together than younger girls." In line with the dating topic, he also sets the record straight on the rumors of him dating "Gossip Girl" co-star Ed Westwick, claiming them "hilarious."
Comments
comments