Charlotte Church is planning a water birth. The 21-year-old chat show host, who is eight months pregnant, has purchased a birthing pool after a friend convinced her it was the best way to deliver.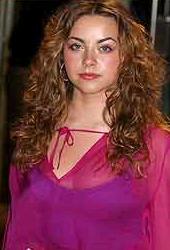 Her mother revealed, "Her friend had a water birth and told her how great it was, so she's going for it. They are all the rage at the moment and there are a lot of benefits with them too."
Her mother also revealed the singer and Gavin have decided not to find out the sex of their unborn baby until the big day, saying, "She can't sleep and is tired all the time. But she and Gavin are both so excited now and can't wait to find out if they have a boy or a girl."
Meanwhile, the singer has splashed out $60,000 to increase security at her country mansion before the baby's arrival. She is believed to be erecting a massive fence to guarantee privacy at her estate in the Welsh village of St. Brides Major, near Cardiff, which is located close to a busy public footpath.
One pal revealed, "She bought the house to get away from the attention so won't feel happy until it is 100 percent secure."
Comments
comments