Kim Kardashian, who recently revealed she did not have butt implant, graces the cover of King magazine.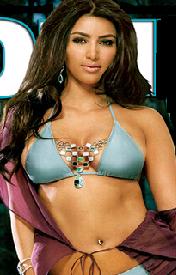 The socialite, who hit the headlines with her sex tape with a former boyfriend, has decided to go the classy route by wearing a sexy bikini.
She decided to participate in 8th Annual Celebrity Catwalk recently took place in Los Angeles. The event was help to raise awareness for National Animal Rescue. Other celebrities who attended the event are Jenna Jameson, Elise Neal, Claudia Jordan, etc.